The Philippines is an extremely beautiful country. 
Seriously! Whether you're looking for a super chill beach vacation or an adventurous hike, heritage sites or man-made wonders, and even super fun festivals, the Philippines has it for you.  We're not quite up there yet when it comes to tourism as compared to our neighbors, even locals overlook our own sites! But here are some reasons why you should pack your bags, and explore the Philippines right now.
1. The Philippines is one of the richest when it comes to biodiversity. 
Photo from: www.experiencephilippines.org
Map from biodiversity.sg
The red marks on the map above shows the world's biodiversity hotspots. Look at the Philippines. That's the WHOLE country marked in red! Plus, a lot of species are actually endemic. For example, there are 580 recorded species of birds in the country, and more than 35 percent can only be found here. 60 percent of 160+ mammal species, and 65 percent of 10,000 plant species are endemic. So if you're a nature buff and want to see rare beauties, the Philippines is the place for you.
Tip: If you have little time to spare, but want to see our biodiversity, try visiting the UP Diliman campusin Quezon City for bird watching! There are reportedly 110+ species in the campus.
2. We also have a lot of heritage sites.
If you are a history or heritage buff, the Philippines also has a lot to offer. We have four churches declared by UNESCO as heritage sites: the church of San Agustin in Paoay, Ilocos Norte, Nuestra Señora dela Asunción in Santa Maria, Ilocos Sur, San Agustin Church in Intramuros, Manila, and Santo Tomas de Villanueva Church in Miag-ao, Iloilo. We also have heritage towns where you can just walk around and bask in the culture. Eat an empanada in the historic town of Vigan (another UNESCO heritage site) or try a kalesa ride around Intramuros! Check out these articles on Vigan and Escolta street!
In Intramuros. Photo by: Arielle Castillejos
3. Because Nature. 
Forgive me, I just don't know how (or if I have to) explain this. Our islands are simply dotted with beautiful natural sites from waterfalls, to mountains, to pristine beaches. And you don't even have to go far from the city! A lot are reachable for quick getaways. Let the pictures speak for themselves.
Photo from: www.tourismcentralvisayas.com
Photo from: palawan.gov.ph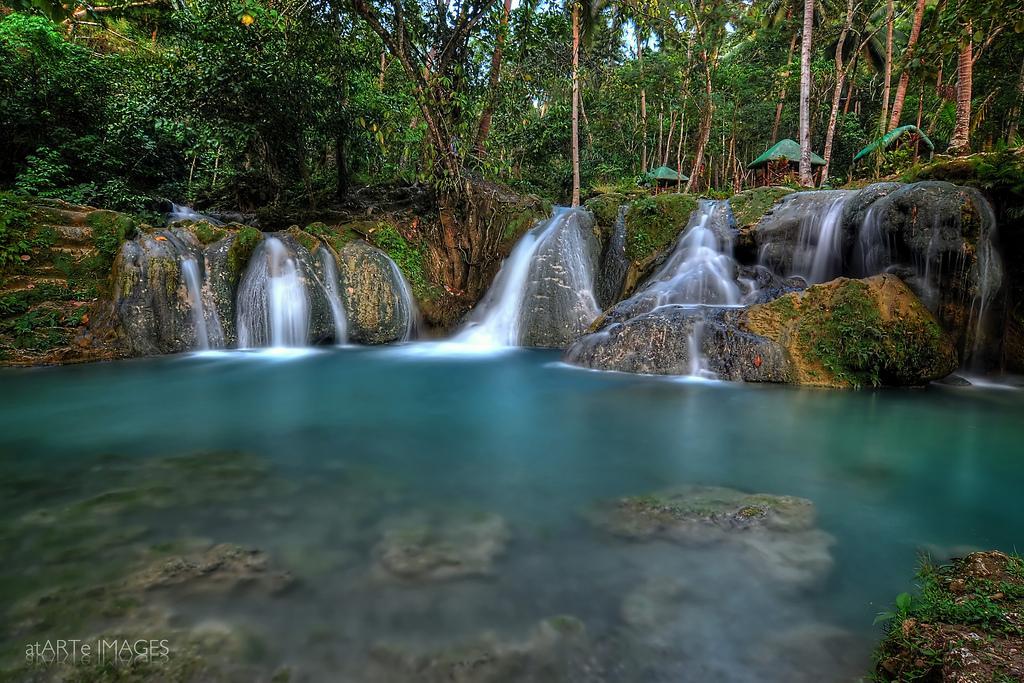 Hagimit Falls. Photo by: WiseDvo of Flickr.com
Mt. Pulag. Photo from: www.thingstodoinphils.com
4. Travelling in the Philippines is relatively cheaper. 
Travelling here is cheaper compared to our Asian neighbors. Granted, the sites to see are so different, but it's pretty easy to see that you can get your money's worth (or more) with the awesome sites the Philippines has to offer. I haven't been to many countries myself, so I can't give actual comparisons. But here are a few travel blogs you can look at for references!
http://gobackpacking.com/philippines/
http://escapology.eu/2014/07/06/three-months-traveling-the-philippines-budget-costs-and-tips/
http://www.ourbigfattraveladventure.com/2013/10/18/philippines-travel-costs-three-weeks/
Note: There are other blogs which say that travelling is quite expensive here, but I guess it all boils down to strategy and good budgeting! Be wise and load up on information about your destination. There are also a lot of Filipino travel bloggers who would give you good insights on many destinations in the country. You can save up on costs by doing this.
5. The Philippines is a lot of fun. 
With thousands of islands, activities you can do in the country can be extremely diverse, and you're in for a very rich experience. You could go island hopping, spelunking, trekking, mountain climbing, do water activities, or party on the beach! For a more subdued trip, you could go to museums, visit heritage churches, go food tripping or chill in the resorts. Or you know, combine them all. Oh, and don't forget the festivals you could go to! This site lists down Philippine festivals from January to December. :http://www.philippinecountry.com/festivals.html
Photos from: insights.looloo.com and lakbaypilipinas.com
Of course, we can't forget the people. Filipinos are usually very friendly and hospitable. Some would even invite you to eat with them in their homes! As in other places, interacting with locals will surely give a new dimension to your trip. Filipinos like having fun with everyone. It doesn't matter where you're from, when Filipinos have fun, you can (almost) always join in!
and for the locals, you really should travel domestically because:
6. Travelling in the Philippines can help the Philippines. 
There are actually a lot of ways we can help our country through tourism. The most obvious is the boost it gives to the economy of different locales. It creates jobs and opportunities! Another one is heritage conservation. If more people are aware of the importance of heritage sites and structures, then maybe we wouldn't have such a hard time conserving them!
Oh, and that instagram post? It helps promote tourism! The long and short of it is, you CAN help! and have a lot of fun while you're at it.
Note: Remember responsible tourism, of course.
7. Because it's YOUR COUNTRY!
That is actually enough reason. Get to know where you live and where you come from! The sad truth is a lot of us overlook the beauty in our country because of social and political conditions. But really, we should count our blessings. And we have been richly blessed with natural wonders and rich biodiversity. Add to that the rich cultures we can immerse in and get to know! Knowing our origins, our own people and the different cultures we have can enrich us as individuals and as Filipinos.
How about you? Have you tried travelling around the Philippines? Share with us your favorite or dream destinations below!